Original & Chocolate Bundle
2 x 180g Jars
Sale price
$22.00
Regular price
Unit price
per
4 payments of $5.50 with


Our two original peanut butter powder flavours all wrapped up in a bundle. This is the perfect combo for adding into smoothies, baked goods and scraping on warm toast!
Never get bored with two distinct peanut butter experiences. Even better the bundle has fast & efficient shipping Australia wide!

Made in Australia

Free Shipping Over $45

Quick
Delivery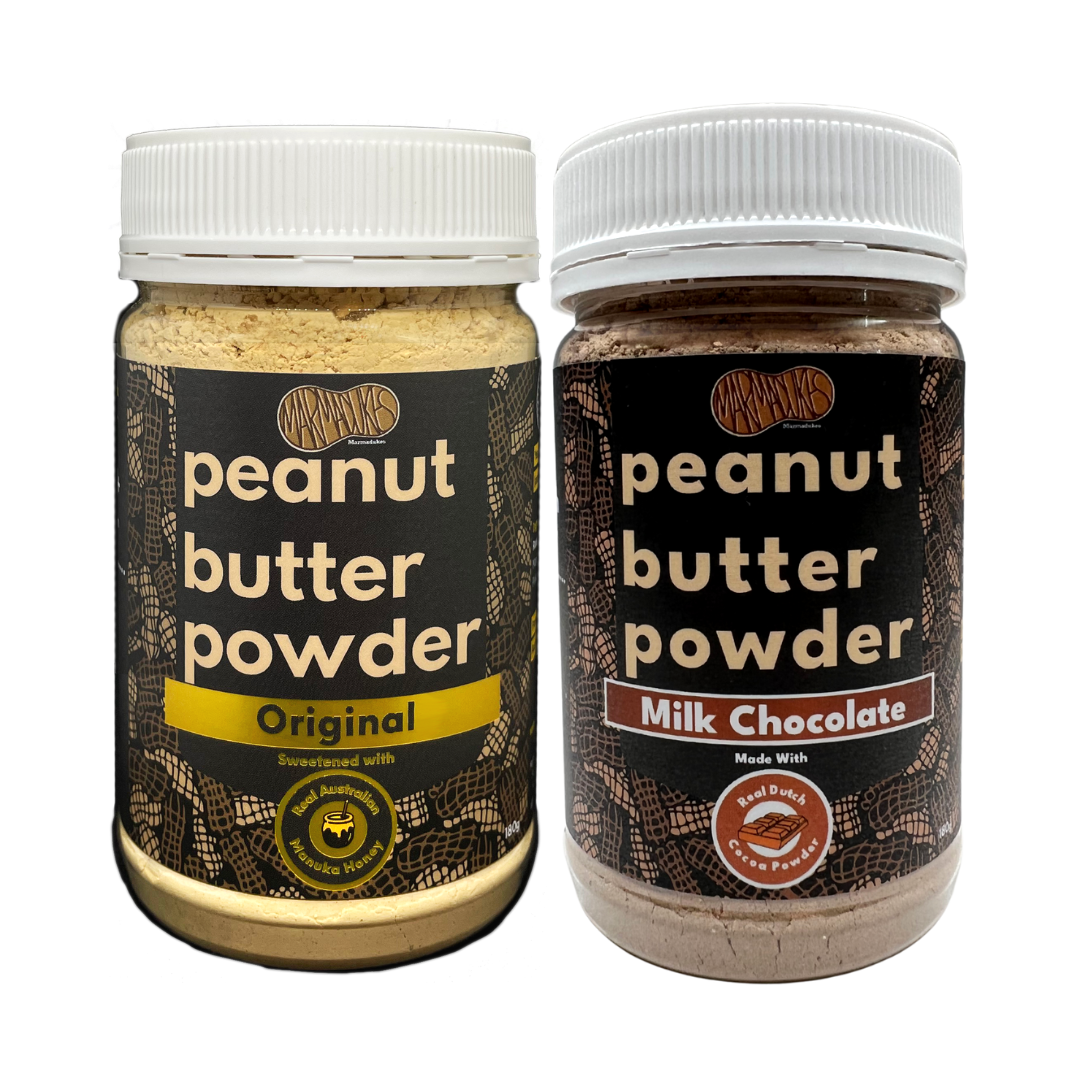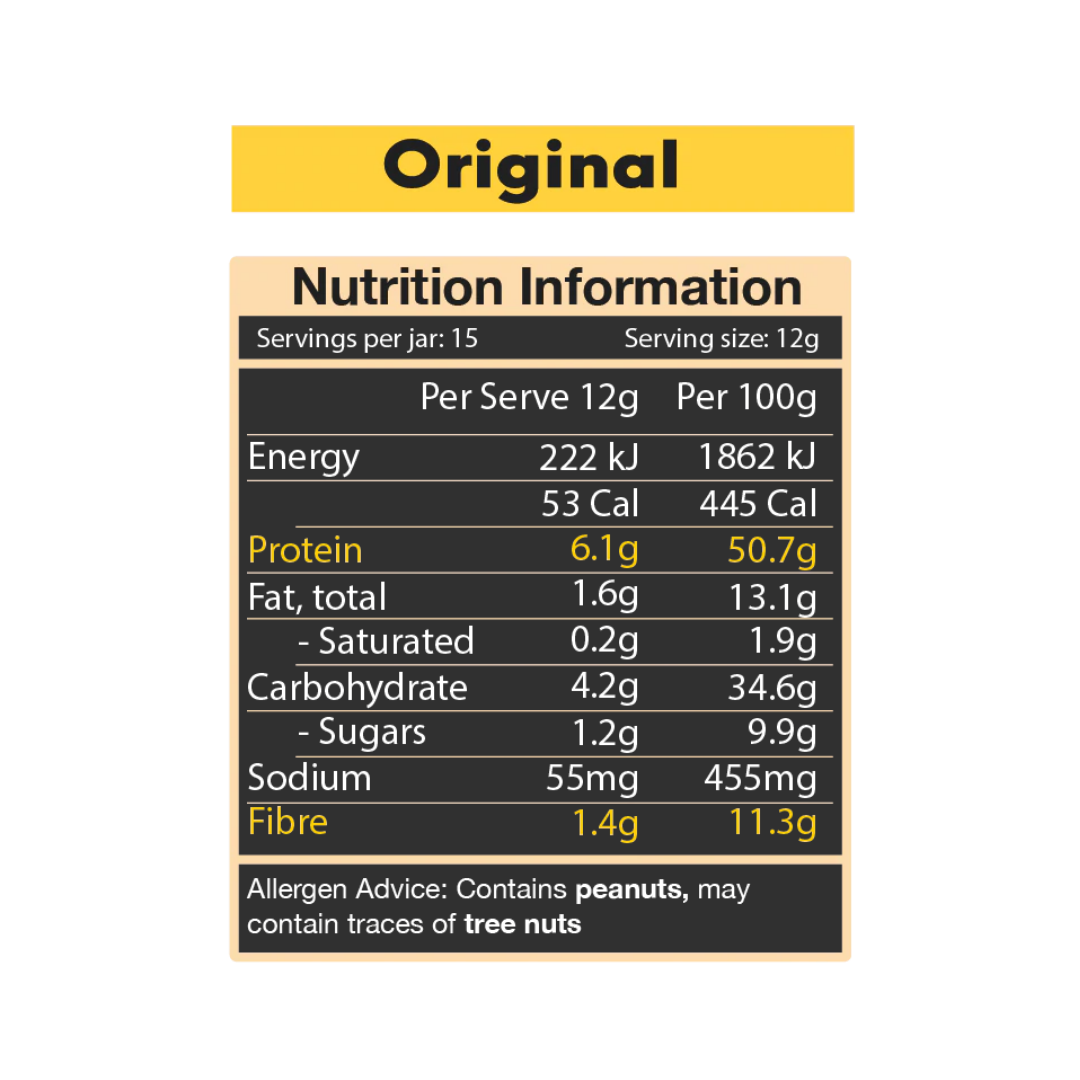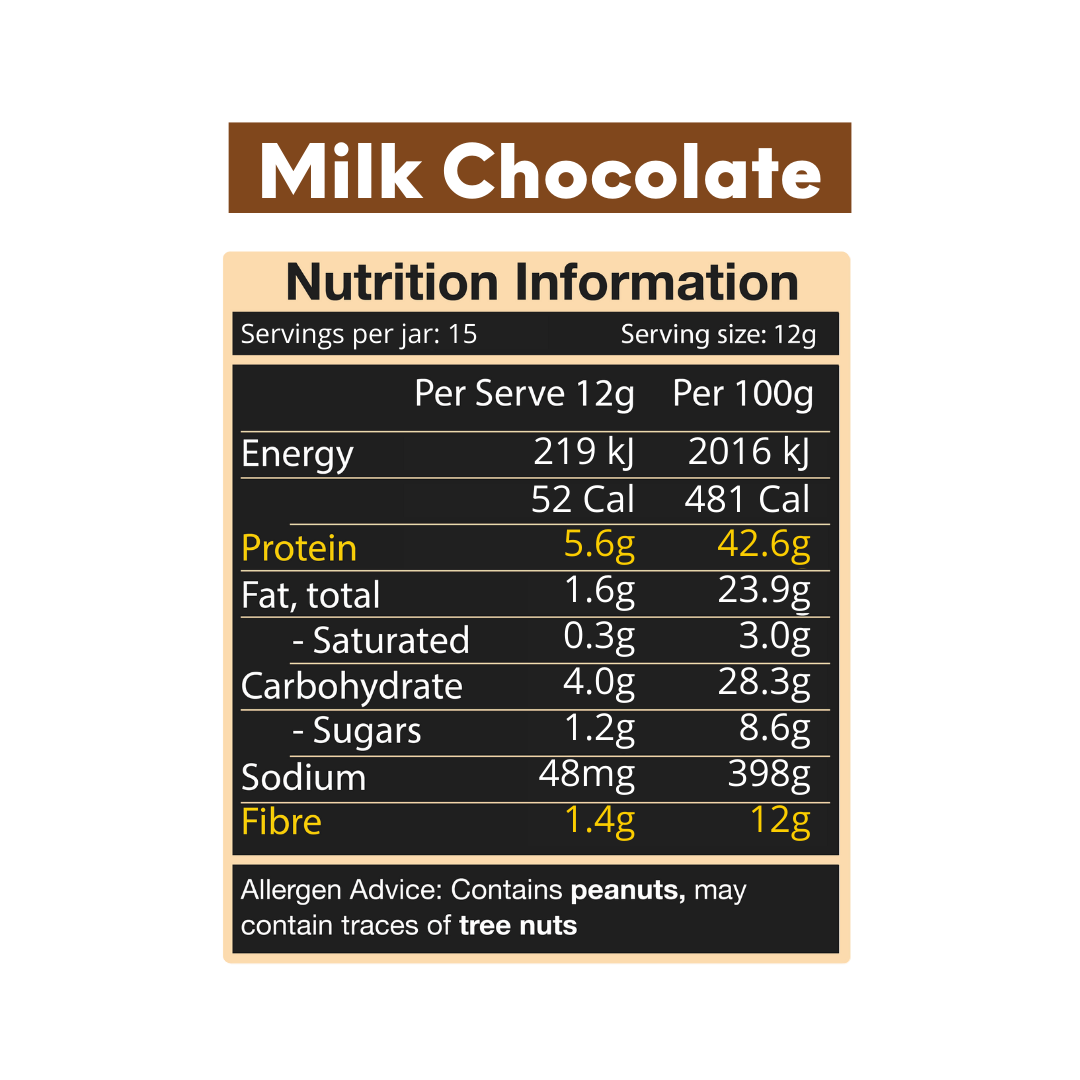 ✖
Original
| Original | Per Serve 12g | Per 100g |
| --- | --- | --- |
| Energy | 222kj (53 Cal) | 1862kJ (445kcal) |
| Protein | 6.1g | 50.7g |
| Fat, total | 1.6g | 13.1g |
| - Saturated | 0.2g | 1.9g |
| Carbohydrate | 4.2g | 34.6g |
| - Sugars | 1.2g | 9.9g |
| Sodium | 55mg | 445mg |
| Fibre | 1.4g | 11.3g |
Rich Chocolate
| Original | Per Serve 12g | Per 100g |
| --- | --- | --- |
| Energy | 218kj (52 Cal) | 1828kJ (437kcal) |
| Protein | 5.9g | 49.4g |
| Fat, total | 1.6g | 13.0g |
| - Saturated | 0.3g | 2.1g |
| Carbohydrate | 4.3g | 35.7g |
| - Sugars | 1.1g | 9.5g |
| Sodium | 55mg | 446mg |
| Fibre | 1.4g | 11.4g |
Inside this bundle is...
Original PB Powder

Our original product is naturally sweetened with real Australian Manuka honey. Manuka honey is the ultimate superfood with immunity boosting qualities and energy boosting effects. It has to be the most natural and healthy sweetener around!

Milk Choc PB Powder

Our Milk Choc Peanut Butter Powder has all the benefits of the Original flavour with the addition of cocoa powder, giving it a smooth and decadent chocolate taste.
1 x Original Jar
1 x Milk Choc Jar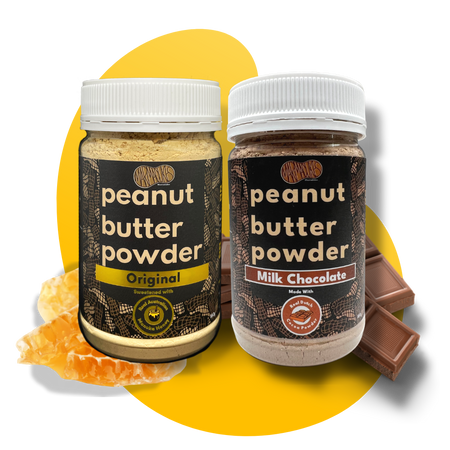 Thick peanut butter
in
three

easy steps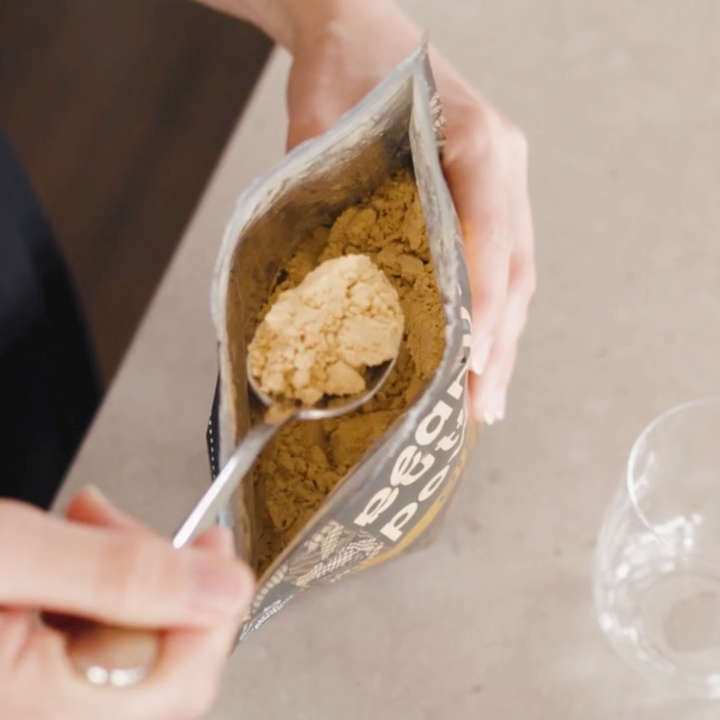 1
Scoop
Place 2 tbsp (12g) of powdered peanut butter into a small bowl
2
Pour
Add 1.5 tbsp (20ml) of water
3
Stir
Until smooth and thick peanut butter is formed
PEANUT BUTTER BUT BETTER!
70% Fewer Calories
70% Fewer Calories
The peanuts have been roasted and pressed to remove excess fat and calories.
90% Less Sugar
90% Less Sugar
Marmadukes has far less fat per gram than regular peanut butter, but all the flavour!
High Protein
High Protein
Packed with natural peanut protein which keeps you full, fit and healthy.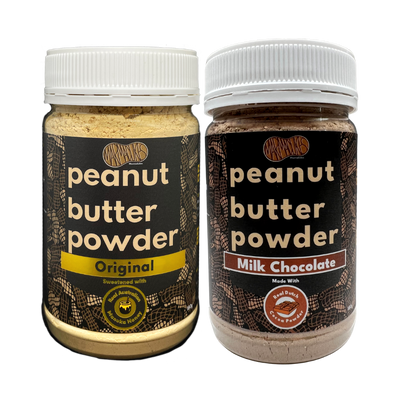 Zero Additives
Zero Additives
Our peanut butter has no additives, preservatives or sweetners! All the flavour comes naturally!
Real Ingredients
Real Ingredients
We do not use artificial sweetners, fillers or anything else. We only use minimal real ingredients.
Aussie Made
Aussie Made
Proudly Australian made and owned, with distribution Australia-wide.
FAQ
How do I turn powder into peanut butter?
How is it low calorie? What have you added?
Can I use peanut butter powder instead of peanut butter in cooking recipes?
What can I cook with Marmadukes
Is Marmadukes peanut butter powder vegetarian, gluten and dairy free?
Once made up, how long does it last?
Can I add water straight into the jar or pouch?
What is the shelf life of Marmadukes peanut butter powder?
Are these "sickly-sweet" like others on the market?
What is the difference between rich chocolate and milk chocolate?
Are your products available in-stores?
Original and chocolate
Loved it. Whole family is added to cereals and smoothies
Original and Chocolate Bundle (2 x 180g Jars)
Amazing ! Will be buying again, esp the choc peanut
Love the texture and great substitute which is healthy. Normal peanut butter is great but the choc peanut is the fave!
Original and Chocolate Bundle (2 x 180g Jars)