Crunchy peanut butter oatmeal slice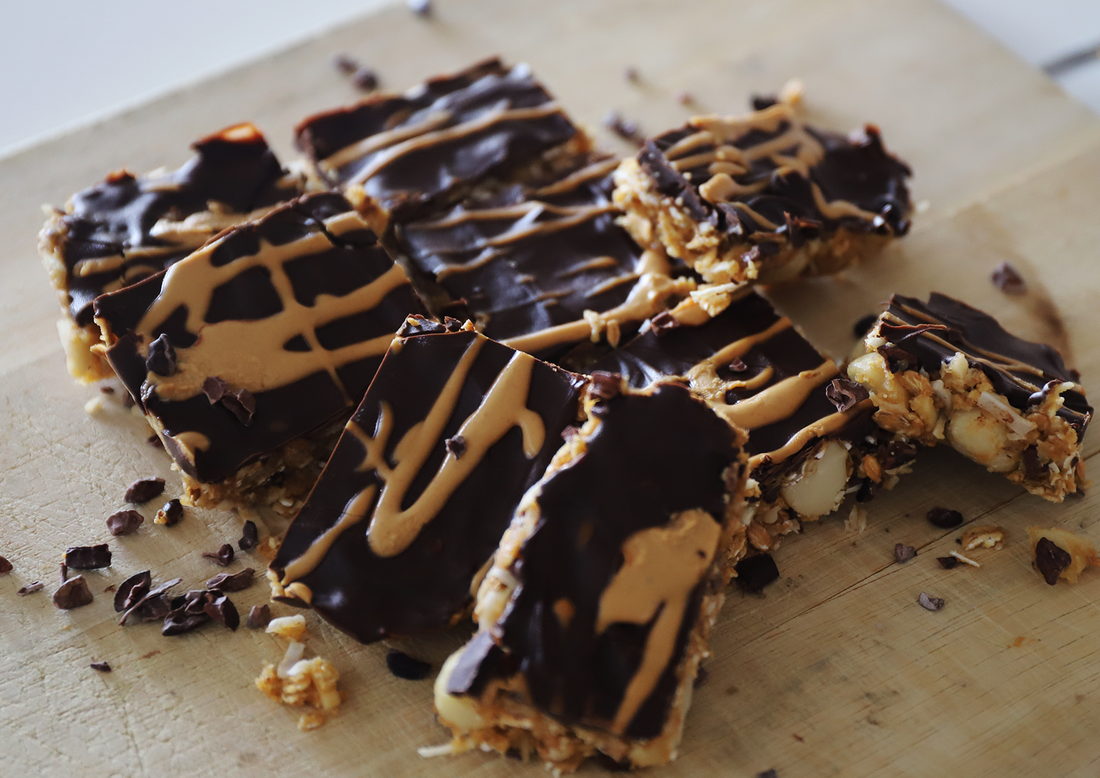 These no bake peanut butter oat slices are super delicious and also nutritious. Made with only super healthy whole ingredients, you wont believe how naughty they taste. Whip these up and throw them in the freezer for just an hour and they are ready to go.
The base of the slice consists of oatmeal, almond meal, desiccated coconut, water and of course Marmadukes peanut butter powder. All of the other ingredients are customisable and can be adjusted, removed or added according to your taste and desire. We went with cacao nibs for the added anti oxidants and macadamias for that added crunch. Get creative!
One batch makes 9-12 large slices. Enjoy.
Steps
Add all of the ingredients into a large mixing bowl (except the chocolate coating and peanut butter drizzle ingredients...)
Mix them together thoroughly until a dough like consistency has formed and all the elements are mixed
Line an approximately 20cm x 20 cm baking tray with baking paper and spread the mixture evenly until it is 1.5cm thick all over
Place your chocolate in a microwavable bowl and microwave it in 15 second intervals until it is completely melted (go slow and steady, it burns easily)
Evenly layer the chocolate ontop of the slice base
Make 1 serve of Marmadukes Original peanut butter as per the directions on the jar and drizzle it on top
Finally, place the tray in the freezer for 1-2 hours until it is set and ready to enjoy
Ingredients
| | |
| --- | --- |
| 1 cup | Rolled oats |
| 3/4 cup | Almond meal (or flour) |
| 1/2 cup | Desiccated coconut |
| 1/2 cup | Marmadukes Original peanut butter powder |
| 1/4 cup | Water |
| 1/4 cup | Cacao nibs |
| 15 | Macadamias |
| 120g | Dark cooking chocolate |
| 2 tbsp | Marmadukes Original peanut butter powder |