Thai satay chicken noodle salad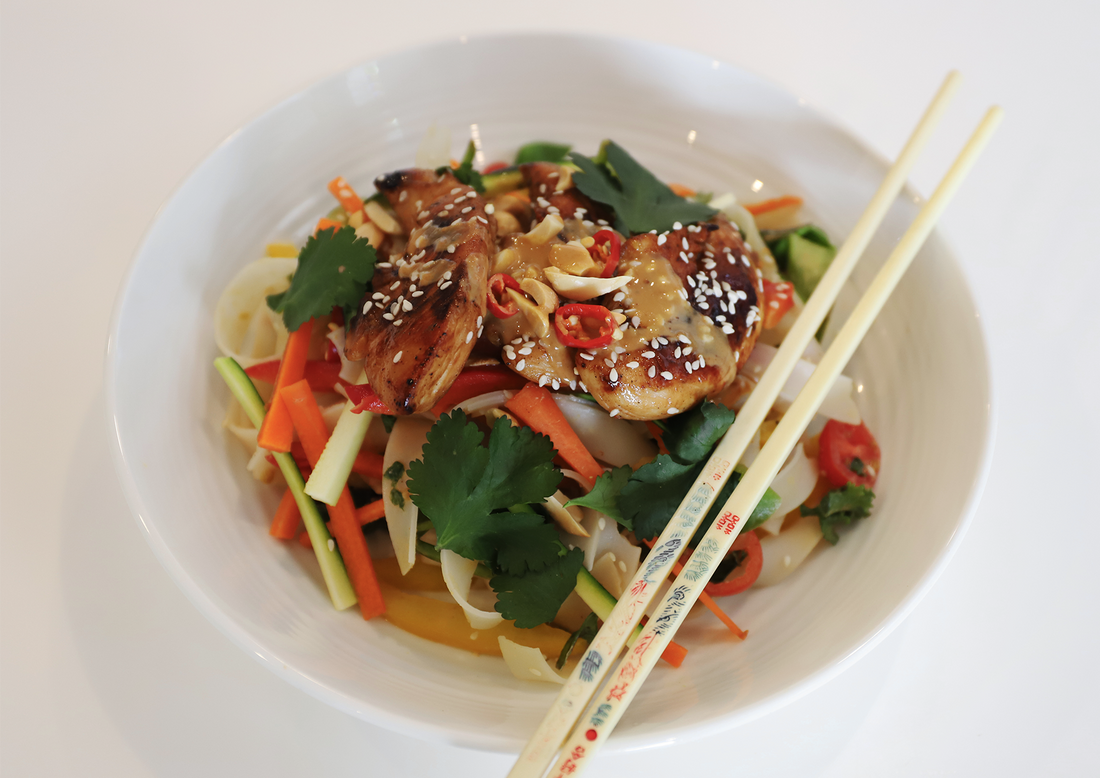 Peanut butter powder is truly versatile and you are certainly not restricted to using it in sweet treats. Marmadukes peanut butter powder can be used as a healthy, low calorie, high protein alternative in traditional satay recipes. You still get that rich peanut butter taste found in satay, but with a fraction of the calories.
Thai cooking is all about balancing sweet, salty and sour and this recipe does just that and is super fresh and clean. Perfect for a light lunch or dinner. 
The following recipe serves 2, double it to serve 4.
Steps
Place all of the chicken marinade ingredients in a zip lock bag and mix thoroughly so that all ingredients are incorporated evenly. Place in the fridge for ideally over 1 hour (Over night is even better)
Place the peanut satay sauce ingredients in a small bowl and mix together until smooth and place aside
Cook the noodles as per packet instructions and rinse with cool water, set aside
Slice up the salad ingredients (except the noodles) into thin strips or shred
Mix the salad ingredients, noodles and peanut satay sauce in a large bowl (leave a small amount of sauce for serving)
Warm a pan over medium heat with coconut oil cooking the chicken tenderloins for 3-4 minutes either side. Remove, stand loosely with foil for 3 minutes
Serve the salad and noodle mix between the dishes and top with the chicken and the remaining peanut satay sauce
Finally, garnish with coriander, chilli and sesame seeds and serve
Ingredients
| | |
| --- | --- |
| 2 tbsp | Low sodium soy sauce |
| 1 tbsp | Honey |
| 1 tbsp | Sesame oil |
| 1 tbsp | Lime juice |
| 1/2 tsp | Sriracha (adjust to your spice level) |
| 400g | Chicken tenderloins |
| 1/4 cup | Marmadukes Original peanut butter powder |
| 2 tbsp | Water |
| 1 | Capsicum |
| 1 | Cucumber |
| 1 | Carrot |
| 1 cup | Baby kale |
| 100g | Pad thai noodles |
| Plus | Fresh chilli sesame seeds and coriander |