Peanut butter and banana smoothie bowl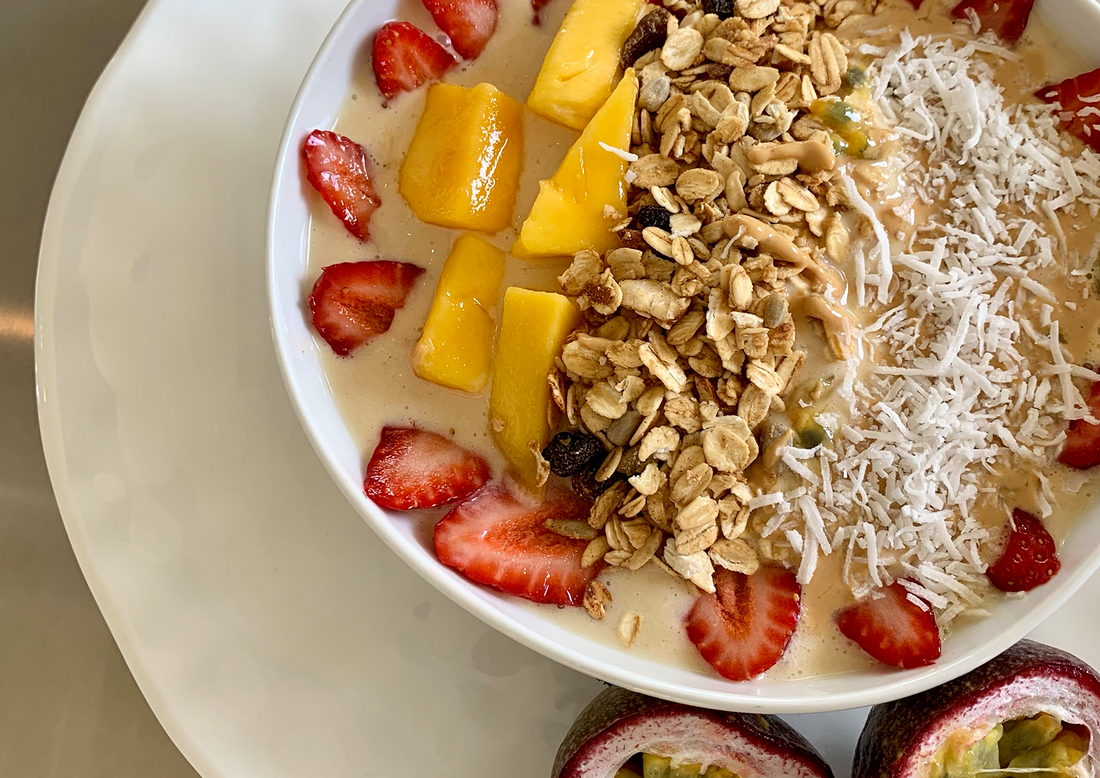 As the weather heats up smoothie bowls are an awesome addition to any time of the day! 🧊☀️  This peanut butter and banana smoothie can be whipped up in a blender in minutes and is an absolute must add to your quick go-to recipes!
Then simply add whatever toppings you desire! We went for fresh Aussie mangoes, strawberries and passionfruit along with a sprinkle of muesli and shredded coconut!
The key with smoothie bowls is to have enough ice and frozen fruit so that it goes super thick and delicious! However be careful with the ice, to much makes it overly watery and crystallised, just a few cubes is enough!
This recipe makes 1 generous bowl, so adjust accordingly for more people!
Ingredients
1 frozen banana
1 tbsp @Marmadukes Original peanut butter powder
1/4 cup of Greek Yoghurt
Splash of milk
3-4 Ice cubes
Toppings
Mango, thinly sliced
Strawberries, thinly sliced
1/4 cup of muesli
1/4 cup desiccated coconut 

Directions
1. Combine all ingredients (except the toppings) in a blender and blend until smooth and thick
2. Place the smoothie into a bowl
3. Slice and add what ever toppings you feel, enjoy!

-
Be sure to share your creations on instagram and tag us @marmadukes.au and #marmadukespb
Steps
Combine all ingredients (except the museli, mango, strawberry, coconut) in a blender and blend until smooth and thick
Place the smoothie into a bowl
Add remaining ingredients as toppings
Ingredients
| | |
| --- | --- |
| 1 | frozen banana |
| 1 tbsp | @Marmadukes Original peanut butter powder |
| 1/4 cup | Greek Yoghurt |
| Splash | milk |
| 3/4 | Ice cubes |
| Mango | thinly sliced |
| Strawberries | thinly sliced |
| 1/4 cup | muesli |
| 1/4 cup | desiccated coconut |